Posted on 13/03/2013, in Bottle Stout, Bottled Ale Reviews, Medium Strength Bottled Ale, UK Bottle Ale, with 0 Comments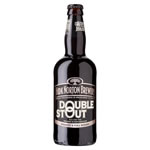 Brewery – Hook Norton
Ale – Double Stout
Type – Stout
Origin – Oxon, UK
Strength – 4.8% ABV
RRP – £1.99 / 500ml
Hook Norton is an old English brewery that has been in operation for many years and they have produced an appealing looking bottle design with strong classy branding for their Double Stout with a nice tag line of "Handcrafted in the Cotswold Hills since 1849". How many other stouts currently on the market have a brewing history of over 150 years?
The stout ours jet black with an off cream head that seems to dissipate to a couple of millimetres of head within a few minutes of drinking and as soon as the bottle cap flipped off there was a genuine aroma of chocolate.
Carbonation levels are fairly low for a bottled stout and certainly less so than the March of the Penguins stout which was reviewed at the same time.
Double Stout is an award winning beer which won the 2011 World Beer Award's "Best Dry Stout in Europe". It is quite easy to see why it is so well regarded. It has a unique flavour of its own marrying sweet chocolate tones with a slightly bitter toasted malt aftertaste.
The beer is bottle conditioned and was originally brewed as far back as 1849 with an unfortunate hiatus in production from 1917 until thankfully Hook Norton began brewing it again in 1996.
One of the best stouts in its class. A deliciously tasty, complex stout that is both challenging to the taste buds but also irresistibly drinkable. Lovely.