Posted on 26/04/2013, in Meet The Brewer, with 1 Comment
Tell us a bit about your brewery.
TicketyBrew is a 330ml bottle-only brewery producing domestic beer to sit alongside the plethora of imported beer that's on offer. We love trying beer from all over the world and we want to offer a British alternative to some of the classic styles.
How long have you been brewing for?
We've only been up and running for 2 months.
How did you get into brewing? Did you homebrew?
Lots of hands-on brewing in a small flat and a lot of reading. My friends enjoyed the freebies during the 'R&D' phase!
Who/what inspired you to be a brewer?
Beer inspired me. Mainly Belgian, to be honest. I fell in love with Belgian beer ten years ago in an off-licence called Corks of Cotham (still there, it seems!). More recently, discovering the Kernel in London (we used to live there) showed me a great, unfussy approach to brewing.
Where is your brewery based and what capacity do you currently have?
It's under a railway arch in Stalybridge. I've got a 5.5bbl capacity but only brew 800l at a time. I say 'only' – it takes a while to bottle that lot.
Is there anything that you believe you do differently to other brewers?
We currently only use a Belgian strain of yeast. I'm not sure if anyone else does that. I love the extra flavours it brings.
What steps do you take when creating a new ale? How do you decide what to make?
For our first two beers we wanted two polar opposites: a tangy, fresh and bitter beer and a smooth, refined and subtle one; making sure we have a balanced variety is important. We choose a style, pick it apart and put it back together again in our own way.
What do you think attracts people to your beers?
I'm not sure. The silly name? The labels? Hopefully people will soon start to think of us as offering something a little bit different. But I suppose everyone says that…
Do you create them for a specific market, or do you brew the kind of beers that you like?
It's definitely what we love. I'm not sure there's a huge market for the Belgian-style Dubbel right now but people absolutely love it when they try it. It's such a great style of beer and we want people to love it as much as we do.
Do you enjoy drinking your own beers?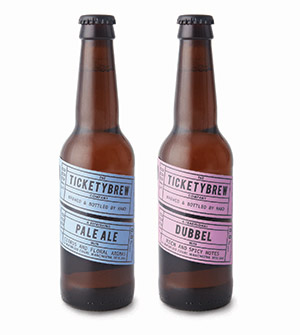 Of course. Although I still love seeking out new stuff I haven't tried before.
Which of your beers is your favourite?
The Dubbel is definitely my favourite.
Have you had any outright disappointments or disasters?
My first and last homebrews were fairly disappointing. The first was attempted in a saucepan so I should be too hard on myself. My last was down to a faulty thermometer which ended up with me pitching yeast in beer that was too cold. The yeast flocculated too early and I got a fair bit of diacetyl. A good lesson learnt at the 11th hour!
Do you collaborate with other brewers, and if so what do you get from this?
We haven't yet but would certainly be up for it.
Which other brewers would you rate especially highly and why?
I love De Molen. They've recently gone under a bit of expansion I've heard so it'd be interesting to see where they go from here.
Nøgne really do it for me too. Their saison is pretty special. Difficult to find at sensible prices though!
In Belgium, De Proefbrouwerij don't really seem to put a foot wrong.
Since I've started brewing I've made a concerted effort to drink more British beer too. I don't get to go out much so I've got a collection in my fridge that I'll make my way through. Come back to me on that…
What are your top 3 favourite beers of all time, and why?
Hercule Stout by Ellezelloise is a triumphant beer. It transports you by the fireside in a stately home.
Troubadour Obscura is a beer which is far too difficult to get hold of. Treacly and delicious.
Westvleteren 12 is of course even harder to get hold of and probably an obvious choice but it really is one of the best beers ever made. I have one bottle left in my house and I don't want to drink it as I've no idea when I can get some again!
What are your plans for the future?
Looking at the above list you can guess another dark beer is on its way. Perhaps I should become a lobbyist and try and get the strong beer duty scrapped!
We're planning on at least doubling the range to four and getting some specials out there. For the immediate future we're just focusing on getting our beer out there and enjoyed.
How would you describe the brewing industry in the UK?
A hive of creativity and excitement with a good measure of hops thrown in.
Where do you think the industry is going?
I think younger people are carving out their own idea of beer and brewing it themselves. New beer drinkers and places to drink beer will increase. I'm not sure about the whole 'beer sommelier' thing, though. Beer is so popular because there's no bullshit attached. You just take a sip and say 'aah'.
What is your personal view of CAMRA and SIBA?
I was unsure about CAMRA, particularly as we don't fit a mould with them, what with us doing just bottles. However, since we've set up we've had good experiences and subsequently joined. We'll see where it goes. I do think they can sometimes come across as a bit too regressive but what they've done for beer in this country can't be ignored.
We've not had any experience with SIBA. Someone else in the industry said it's only worth being in to get guest slots in tied houses and we don't do cask.
Do you have any news that you would like to share with us?
Our stockist list is growing by the week. We'll be in a bar near you very soon, if not already!
Do you have a website where people can find out more about your brewery?
www.ticketybrew.co.uk but we are also on Facebook and Twitter