Posted on 03/02/2013, in Meet The Brewer, with 2 Comments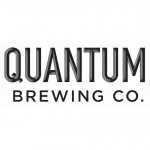 Tell us a bit about your brewery.
Quantum Brewing Co is a Five Brewer's Barrel (1BBL = 36 gallons/163.7L) craft brewery in Stockport, founded in 2011. We produce beers of all styles and strengths, with a heavy focus on flavour. We are hugely independent.
How long have you been brewing for?
Commercially, since 2011.
How did you get into brewing? Did you homebrew?
I got into beer mainly through my dad, who used to homebrew all the time when I was growing up. My local pub when I was a teenager in Urmston was a Holts pub, and I used to be a regular at The Ape and Apple in Manchester in my early to mid 20's, so ale is something I've grown up with, something I've always been around, though I must confess to being unconcerned about quality in those days.
I started homebrewing a few years ago, driven more by necessity than anything else – I didn't have much money then. But as I researched processes and got more experienced with the ingredients I found it becoming a bit of an obsession. Trying to emulate different breweries wasn't really my thing; I was more experimental, which I guess is why I've had some success commercially, as that experimental spirit has continued – I mainly produce one off beers, though I do have beers which I produce more than once, but I'm always striving to improve them.
Who/what inspired you to be a brewer?
My dad's homebrewing probably left an imprint on my subconscious, but the real big influence during my homebrewing phase was Randy Mosher – in particular his book 'Radical Brewing'. It really encouraged me to experiment and taught me that style guidelines aren't immutable. Nowadays the people who inspire me are my fellow brewers.
Where is your brewery based and what capacity do you currently have?
We are based in a small industrial estate on Hempshaw Lane in Stockport, right in the heart of what was historically a brewing area. We have a maximum output of 2,888 pints per week, but we are in the process of doubling this capacity and installing new equipment to help with different processes.
Is there anything that you believe you do differently to other brewers?
I believe all brewers do things in their own unique way, especially on small scale equipment. There aren't really any qualifications that you need in order to enter the brewing industry, and most people's equipment is slightly different so there's bound to be something different. Of course, my recipes are tailored to the limitations of my equipment, so if someone brewed the same recipe on a different kit it would undoubtedly change.
What steps do you take when creating a new ale? How do you decide what to make?
A new beer always starts as an idea. Inspiration comes from all angles – different beers I've tried, the smell of a certain ingredient, an overheard conversation etc. Once the seed has been planted it grows from there, all the time backed up with the intention of creating a balanced beer. At the end of this process I always ask myself, "Is this new idea something I'd be willing to charge people money for? Would I be happy to drink this beer?". If the answer to either of those questions is 'no', then I won't continue with the recipe.
What do you think attracts people to your beers?
I'm not sure. I've had some very nice comments along the lines of the quality being consistent across the range, which for me is incredibly important. People need to be able to trust the quality of the beer, and once that trust is established then it's easy for them to be able to try any new beer I brew. Of course, there's always the fact that I like using lots of hops, and people seem to like hoppy beers.
Do you create them for a specific market, or do you brew the kind of beers that you like?
I brew the kinds of beers I want to drink. Thankfully other people seem to like drinking them too!
Do you enjoy drinking your own beers?
Indeed, it's very satisfying.
Which of your beers is your favourite? Have you had any outright disappointments or disasters?
My favourite at the moment is American Light, a 3.6% pale ale, with bags of hop character. I've not had many disappointments really, I did have a batch of Pale Ale which wasn't great at the point of dispense despite tasting great in the brewery. Other than that, I've been mainly happy with the beers I've done.
Do you collaborate with other brewers, and if so what do you get from this?
I'm big into collaboration brews. I've done them with Marble, Hand Drawn Monkey, The Pied Bull, Bitches Brewing Co, Brodie's as breweries, and I also teamed up with Summer Wine, Red Willow, Dark Star and Magic Rock to help make the first Port Street Beer House anniversary beer. I've also collaborated with different bars and pubs to produce beers with them, and I also brewed a beer with North Tea Power, a coffee and tea shop in Manchester. I also have an annual collaboration with Colin Stronge of Black Isle (formerly Marble) where we get to do something silly.
The good thing about them is the fact that you have another person there to bounce ideas off, and they're usually daft one off beers! It's nice to see how other breweries work.
Which other brewers would you rate especially highly and why?
I could rave all day about other breweries here, so I'll be restrained and mention three – Kernel, Summer Wine and Hawkshead. They're all producing amazing beers and are all aiming high.
What are your top 3 favourite beers of all time, and why?
My all time favourite beer is Dog Fish Head 90 Minute IPA, which is an absolute ruiner for me. I'm still in denial that they've stopped exporting to the UK and always demand at least a bottle of it from friends visiting the US.
I hold Tilquin Oude Geuze up there as one of the best sour beers in the world, it's always a pleasure to drink. I'm thankful that it's fairly easy to get hold of here, for me it's on a par with Cantillon.
For sheer drinkability Magic Rock High Wire is great. It's light and hoppy, and a healthy 5.5%, which is dangerous.
What are your plans for the future?
I'm planning on making more beer, expanding the brewery and working with distributors to get the beer out to the rest of the UK. I'm also intending to create jobs as the brewery expands, as it's quite a job doing everything alone!
How would you describe the brewing industry in the uk?
It's very healthy at the moment. The great thing is that all tastes are being catered for. There are breweries making great lager, session beers, bitters, milds, stouts, porters, fruit beers, wheat beers, Belgian style beers, sour beers, you name it. I do think that there's going to be saturation point some time in the future, but for the moment the rise of beer is going to continue.
Where do you think the industry is going?
More and more specialist beer bars are going to open and people are going to start taking beer more seriously. I'm expecting beer to feature more positively in the media at some point in the future.
What is your personal view of CAMRA and SIBA?
I'm not a member of SIBA so I can't really comment on them. I'm a supporter of CAMRA, I can only go off my personal local experiences but I'm blessed with having a brilliant and open minded CAMRA branch. They do lots of work locally to promote good beer. I think that without the work CAMRA have done, the state of UK beer wouldn't be what it is today.
Do you have any news that you would like to share with us?
Expect more keg beers and bottles from the brewery very soon. I also have some plans for events but they're all hush-hush at the moment!
Do you have a website where people can find out more about your brewery?
The brewery website is www.quantumbrewingcompany.co.uk and I update it occasionally (when I find the time), we're also on Facebook and Twitter, which are easier for me to update and so the most up to date info is on there. I also invite questions from homebrewers and will help at all where possible, so don't be shy.