Posted on 06/06/2013, in Meet The Brewer, with 0 Comments
Tell us a bit about your brewery.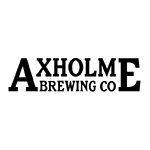 We are a small microbrewery in the Isle of Axholme (a river island in North Lincolnshire). We started up in 2012 after I was made redundant following the closure of Thorne Brewery and I decided I wanted to be my own boss. I do the brewing and driving and my wife Jules does the being nice to customers bit.
How long have you been brewing for?
One year at Axholme, preceded by three years at Thorne, in turn preceded by five years at Abbeydale. So 9 years. I've nearly got the hang of it.
How did you get into brewing? Did you homebrew?
I did homebrew, but not beer (I ran an extensive wine and cider operation during university). When Abbeydale needed a new brewer my friend Rich Hough there suggested me, as any kind of homebrewing at least implies some understanding of fermentation, brewing hygiene, etc.
What do you enjoy most about brewing?
Trying new ideas out, and the satisfaction when a brew comes out exactly as planned (which is by no means every time…) and there is nothing more pleasing than seeing our beer on a bar, and people enjoying it.
Is there anything you don t enjoy about it?
Anything not related to the brewing or distribution of beer. So, people who don't pay, people who 'lose' my casks, that sort of thing. I also don't enjoy Beer Duty Returns.
Who/what inspired you to be a brewer?
All homebrewers. I've always enjoyed taking a DIY approach to anything if it's feasible.
Where is your brewery based and what capacity do you currently have?
We are just moving into a new 4BBL brewery at 7 Lakes Country Park in Crowle.
Is there anything that you believe you do differently to other brewers?
I try not to be either all experimental or all traditional. I think any type of beer has its merits if made properly, so I'm as enthusiastic about our Best Bitter as I am about our spiced Saison.
What steps do you take when creating a new ale? How do you decide what to make?
I usually start by working out what the star of the show will be. Either a particularly good hop, and interesting malt blend or a speciality ingredient of some kind. Then I build around that.
What do you think attracts people to your beers?
Hopefully that there is something for everyone, and that each kind of beer will be consistently well made. I want people to see our (fairly
distinctive) pump clips and instantly form an impression of reliability.
Do you create them for a specific market, or do you brew the kind of beers that you like?
I've tried both, and learned that sometimes the kind of beers I like might be a hard sell in some rural roadside pub. Equally just another US hopped pale ale isn't going to stand out. The balance I've struck now is to make the kind of beers that I like, but to keep an eye on the market to avoid a beer being too intimidating (too strong, too weird etc)
Do you enjoy drinking your own beers?
If I didn't I'd do something else! I'm certainly not in this business for the money.
Which of your beers is your favourite? Have you had any outright disappointments or disasters?
I was very pleased with Luddington Lager, just because if came out exactly as I wanted it too. I'm also pleased with Special Reserve, our (mostly) bottled Old Ale. No real disappointments, except beers that I have thought magnificent but nobody wanted to buy (usually because they were too strong)
Do you collaborate with other brewers, and if so what do you get from this?
Not yet but I'd love to in the future.
Which other brewers/breweries would you rate especially highly and why?
Locally to me Blue Bee in Sheffield are making consistently good beers and Brass Castle in Pocklington are making wonderful vegan beers.
What are your top 3 favourite beers of all time, and why?
Abbeydale Brimstone – a brown but intensely hoppy beer, I reckon it's the best of both worlds!
Rodenbach Grand Cru – I'm pretty partial to sour things anyway, so this can't be beaten.
Sierra Nevada Pale Ale – I'm not really into the whole AIPA thing, but this one is just right for my tastes
What are your plans for the future?
I want to keg-condition some beer. Not as some concession to the 'craft' fashion but more so I can offer our beer to more local outlets that lack cask dispense (clubs, restaurants and the like). I'd also like to open a micropub.
How would you describe the brewing industry in the uk?
There's a huge increase in brewpubs, which is exciting. It's almost like a return to pre-indstrial revolution pubs where everyone made their own ale. There are some incredibly exciting breweries out there, and some wonderful beers. It's just a vibrant, interesting scene.
Where do you think the industry is going?
I think some breweries are going to close. The market is very crowded and there is some fairly ordinary beer out there. Otherwise I think good beer is going to continue to flourish. People aren't thinking of small scale brewing as a niche product any more, but an extension of the whole local food movement, which means there is no longer such a thing as a typical cask ale drinker.
What is your greatest frustration with the industry as it stands?
My biggest frustration has been my local outlets; the unwillingness to try anything new is dispiriting.
Cask vs. Keg what s your view?
The important thing is the beer, not the container it's in. There are excellent keg beers, there are terrible cask beers, and vice versa. No offence to ale.org.uk, but I actually don't like the term 'real ale' as it implies there is such a thing as 'unreal ale'!
What is your personal view of CAMRA and SIBA?
I think CAMRA have done a good job recent on campaigning, and need to focus on what the next fight will be. It could be the beer tie, it could be planning laws around re-designating pubs. Whatever it is, arguing with itself over Craft/Cask is not helpful. For the record I am a CAMRA member!
We joined SIBA recently, a little warily. They've also done excellent campaigning in the past so I'm hopeful. I'm hoping as their long standing members get bigger they don't forget the needs of us little people just starting out.
What sage advice would you give to home brewers?
Not sure about sage, but try anything. Nothing is too hard, and failure will only show you how to do it right.
Do you have any exclusive news that you would like to share with us?
It's not exclusive really, but our move to 7 Lakes is our recent big news. We're going from a 2BBL tinpot brewery made by an incompetent bodger to a proper showcase 4BBL brewery with public display gallery!