Posted on 08/11/2012, in Cheshire, Real Ale Pub Reviews, with 0 Comments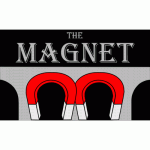 I popped into The Magnet for a quick pint shortly after it opened in November 2009 and have been a regular visitor ever since. From the outset it was quite simply streets ahead of anything else in the area in terms of range, quality and value – and this is an area already sporting a couple of very decent local real ale emporia.
When it first opened, it was still very much a work in progress and the owners have continued to improve, extend and generally beautify it ever since. Three years later, The Magnet may well be finished article but there is no evidence of landlady Lesley or her family resting on their laurels.
A former 19th century coaching house that has retained the same name for over 170 years, the fairly modest and run-of-the-mill exterior hides a true beer drinkers paradise.
On walking through the front doors you are (quite literally) faced with 2 choices – left or right. Left will take you into the modern (but not overly-so) main bar area and right will take you to the other side of the bar and into an area that is initially perhaps slightly reminiscent of a 1980's Italian restaurant due to the unusual plasterwork, but is somehow still a nice place to be.
Beyond those two points of entry lie a number of other rooms, nooks and crannies which all have their own feel and purpose (pool, darts, juke box etc) and which all come together to produce a warm and welcoming environment for either a quick pint after a walk with the dog (yes, they're welcome too) or a more leisurely lunchtime or evening session spent working your way through the 13 ever-changing cask ales, the numerous quality German lagers or the well-stocked fridges.
Often overlooked by cask and keg ale drinkers, the fridges actually offer some real treats – thanks to Lesley's son, Lee's passion for American craft brewed beers, they can often hold some absolute delights that you'll struggle to find anywhere else – alongside more common good quality beers of mainly Belgian and German origin.
Aside from the pool room, the one thing that the rooms have in common is this – no music and no televisions. This is a pub for the dying art of conversation, not the boozy pursuit of televised sports.
There is also a function room upstairs – this is not the usual, damp-smelling, rarely-used pub function room with a leaky, water-stained ceiling but a bright, modern and airy room with part bare brick walls and wooden floors and a bar offering a smaller selection of the drinks that can be found in the main bar downstairs.
Weather permitting; there is a wealth of outdoor space to enjoy a beer or two in the open air – including a generously proportioned, heated smoking area, a decked area to the rear and a roof terrace offering unbridled views of the car park…. It is the perfect place to catch the last of the sun on a summer evening, pint in hand.
Putting beer aside for a moment, one of the oft-overlooked and entirely passive strengths of The Magnet has to be its location – just outside of the town centre – which means that it attracts little if any passing trade – generally a bad thing for the majority of pubs – however, as a result of this, the clientele are the usual set of friendly, affable, entertaining (and at times frankly slightly odd) bunch of people that you'd expect to find in an establishment where the quality of the beer does as much of the talking as those drinking it.
The lack of passing trade does not mean that this pub struggles for custom – it simply means that the people who are there, are there for a reason – and it means that you're assured of a warm welcome and a safe and civilised environment full of like-minded people who are there for the quality of the beer rather than simply the quantity of it.
Thankfully, any loud mass-produced-lager-guzzling sportswear enthusiasts who stray from the beaten track will immediately note the lack of Stella Artois, Kronenbourg, Fosters or Carlsberg and either beat a hasty retreat, or stay for one before heading off to murder the English language elsewhere.
It's hard to find fault with The Magnet, although I concede that it's hard to be objective about the place having developed such a soft spot for it. If I had to look for them then the immediately obvious one would be the lack of food.
Culinary options are limited to a (Titterton's) pork pie and mustard (in a jar, not a sachet!) and the usual array of crisps and nuts.
The pork scratchings ('Q Pork Crackling' – a 'Pork Idol' award winner no less!) are the finest to be found – I say this with a small degree of bias because I found them (I'm something of a pork scratching connoisseur) and introduced them to the landlady a couple of years back as a replacement for the hairy, lacklustre pig parts they were stocking at the time. They soon became firm favourites amongst the regulars. Well, the ones with their own teeth anyway.
Aside from the lack of food, small elements of the decor and perhaps the fact that it's become too damn successful and busy at times, there's really nothing I can think of to complain about – which is decidedly unlike me.
Winner of numerous awards since its opening – including both local and regional CAMRA pub of the year awards in 2011 – The Magnet is, in a nutshell, the stand-out pub in the area for ale enthusiasts.
What started out simply as a 'quick nosey around that new place' has become a bit of a torrid and expensive love affair.
The Magnet Freehouse
51 Wellington Road North, Stockport SK4 1HJ
0161 429 6287