Posted on 12/09/2014, in Bottle Stout, Lancashire, Stout, UK Bottle Ale, UK Cask & Keg Ale, with 0 Comments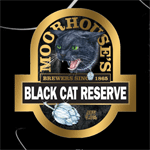 Moorhouse's, the Lancashire-based independent brewer is to launch a bewitching special edition of it's 'Black Cat' dark ale (3.4%), a former winner of the coveted CAMRA Champion Beer of Britain.
Primarily available as a 4.6% cask beer, there will also be a 7% version with limited cask availability – the latter will also be available in bottles, to be sold exclusively by the Booths supermarket group.
Moorhouse's describe the beer as "An intensely dark beer, Black Cat Reserve conjures deep complex notes of roasted coffee chocolate and mocha, balanced by hints of dark cherry and blackcurrant from the Polish Junga hop'.
The Burnley brewer's link with Halloween is well established – largely due to their award-winning brews with names centred around the story of the witches of Pendle Hill (aka Pendle Witches) near Burnley in Lancashire; Black Cat reserve will join other themed beers including 'Broomstick Bitter', 'Witchhunt', 'Black Witch', 'Witches Cauldron', and 'Witchfinder General' – continuing the theme of their core beers 'Blond Witch', 'Pendle Witches Brew' and of course 'Black Cat'.
MD David Grant had the following to say about Black Cat Reserve:
"Our regular Black Cat at the lower strength is the perfect dark quaffable ale to match the mood of the Halloween season and always very popular. We have now created Black Cat Reserve to build on that appeal. We believe it will be ideal for the cask enthusiast looking for that richer brew to savour. Halloween is the third busiest trading season in the year after Christmas and Easter. Licensees that don't do anything to mark it are missing a trick. We aim to support enterprising publicans with the best cask ales to suit the seasonal fun."
Moorhouse's will be holding a number of roadshow events, providing the opportunity to sample the stronger variant, one of these being at the City Arms, Kennedy Street, Manchester on 25th September 2014.
The brewery will be holding a Halloween Beer Festival on the 1st and 2nd of October, featuring Black Cat Reserve and 20 other cask ales – Halloween itself (31/10) will be marked by holding a fancy dress party on-site in their hospitality rooms.
More information can be found at www.moorhouses.co.uk